Come with me while I struggle to create worlds and characters as I deal with
the pain of rheumatoid arthritis and chronic fatigue of fibromyalgia.




Friday, February 6, 2015
A Blessing for Writers
By one and I get a commission! Shameless plug.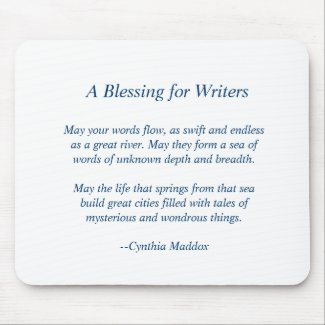 A Blessing for Writers
by
Write_Stuff
Find more Mouse Mousepads at
Zazzle
Photo Attribution
I've tried to attribute all photos to their sources. Should you find an error, please notify me.
If known, unless otherwise noted, all photos are either my own or from Pixabay.com. You may not copy, download, or otherwise use my personal photos. Visit Pixabay.com for information on their photos.